Graduate Fellowships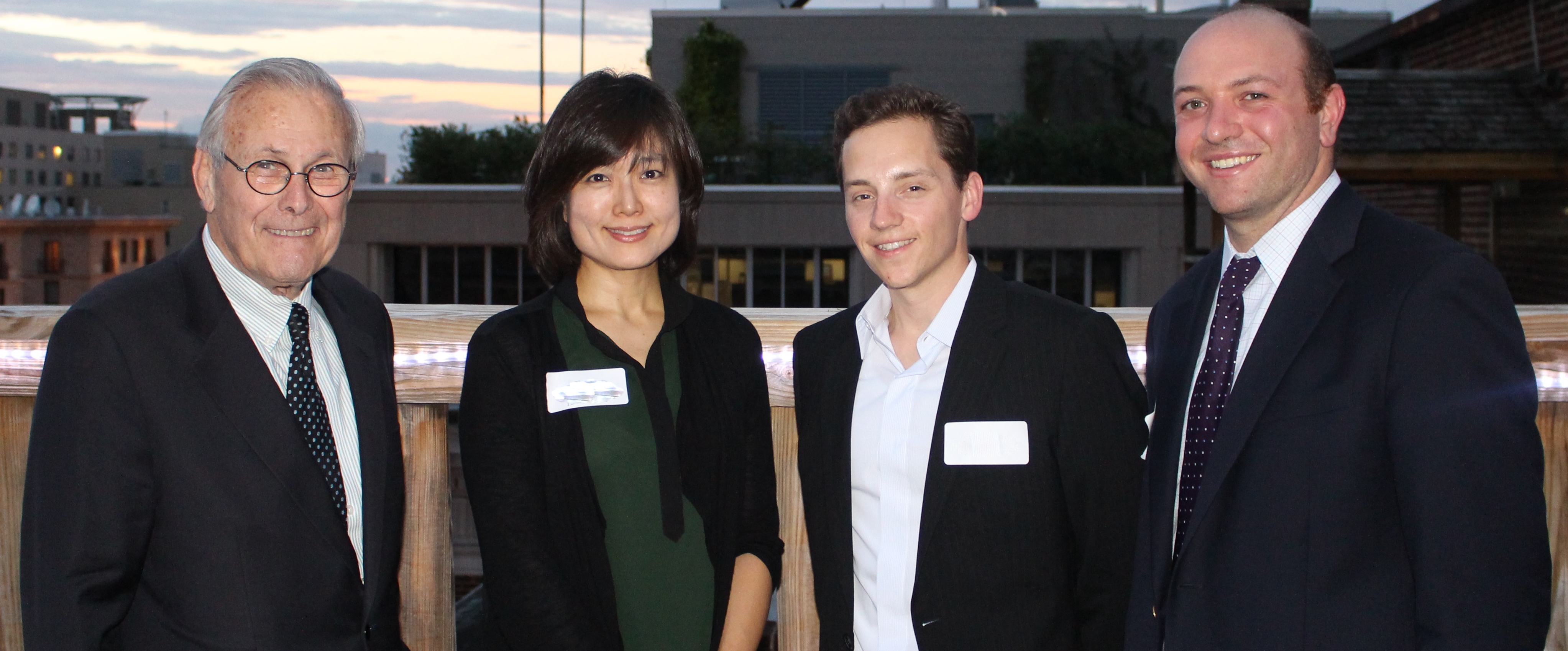 In academia, some ideas are more welcome than others. The importance and dignity of public service is too seldom emphasized in universities across the country. Reserve Officers' Training Corps (ROTC), Judge Advocate General (JAG) and CIA recruiters have been barred from a number of America's campuses. In 2008, the Rumsfeld Foundation launched its Graduate Fellowship Program to provide grants to promising students with an interest in serving the nation through policy-relevant fields or by pursuing a career in public service. Some of the country's most respected scholars in fields from economics to international relations help us to identify candidates of outstanding intellectual ability, integrity, moral character and leadership potential who will benefit from financial assistance.
The Fellowship Program provides grants for M.A. and Ph.D. candidates, postdoctoral researchers and graduate students pursuing public service related internships. Fellowships are awarded to U.S. citizens on the basis of nominations from 22 confidential Advisers in universities across the country. Students may not directly apply for the Fellowship through their university; they must be nominated. The Foundation does not accept outside applications.
In the eight years of the program, the Foundation has awarded 123 Fellowships to 98 individuals, providing over $2 million in support of our talented Graduate Fellows.
The Program's current and former Fellows form an impressive collection of rising leaders active in significant posts and organizations that play important roles in shaping U.S. domestic and foreign policy. In addition, a number of Fellows have represented our nation overseas.
In September of 2013, after four years of awarding Graduate Fellowships, the Foundation organized the first Graduate Fellowship Conference, providing an opportunity for the current and former Fellows, as well as the Program's Advisers, to connect. Each annual Conference serves as a valuable setting for further engagement, important discussions and the growth of significant linkages among an emerging network of service minded scholars and professionals. Read about the most recent conference here: 2016 Graduate Fellowship Conference.
Our Fellowship Program has Advisers at each of the following institutions:
| | | | |
| --- | --- | --- | --- |
| Claremont Graduate University | Indiana University | Stanford University | University of Pennsylvania |
| George Mason University | Institute of World Politics | Syracuse University | University of Texas at Austin |
| George Washington University | Johns Hopkins University | University of Dallas | University of Virginia |
| Georgetown University | Missouri State University | University of Miami | University of Washington |
| Harvard University | Purdue University | University of Michigan | Villanova University |
| Hillsdale College | Princeton University | University of Notre Dame | |